I often notice that when Fairuz and I do groceries shopping in Tesco or Sainsbury, there would always be a man. Young or old walking alone in the aisle of breakfast and cereal and frowning to what seems like a huge world problem in deciding what type of cereal he needs. A few minutes later the man would then take out a piece of paper in his pocket, take a good look at it and still frown and sigh. If it was an old man it was so cute watching his shaky hand holding the paper and trying his best to decide what's best. And if it was a young man he would do what other young man would do. Take out his mobile and start dialling.
Man: Honey, which type of Kellogg's do you mean by the red one? There's like a million and they all look the same!
It's so cute! And I always think that is a norm. A cute norm.
Before I got married I found doing groceries isn't something that I like or neither is something I would do often. In Malaysia I'd never have to do groceries shopping, instead I used to eat at a stall or a restaurant for every single meal when I was a student. Eating out is much much more cheaper that way.
But living here you could save a lot if you cook yourself. Really. A 100 quid could last you for a month on groceries when I was single. And those single days isn't days that you would eat properly and buy groceries that consist of broccoli or artichoke. It always end up you in the middle of Tesco and you don't even know where to begin with. And lets face it carrying those heavy Tesco plastic bags while riding 394 london red double decker bus isn't very fun nor does it seems attractive (you need a man, you need a bf for the carrying work bit because it just seems so right for a man to do it. Like what Fairuz always do for me of course). Or else I'll just end up googling Tesco website and just click on anything I need and before you know it a huge van arrived at the door step bringing my milk and eggs for me. It's pure bliss but I have to bare with the delivery cost.
So when Fairuz and I start living together it as if my perspective on doing chores like groceries shopping change and it was one of the fun thing to do. The idea of going together and choosing what type of salad is so fun we almost bought everything on the shelf that's healthy. I can already see a smiling face and a pat on the back by my personal trainer at that time. We even save our first grocery receipt and paste it on the fridge as a momento. We had every type of herbs and we even bought a few pots and pans. And it was the longest receipt as it was our first grocery outing and obviously the house has no food at all when we move in. But still it cost us about only a 130 quid and this could last for months. I thought it was fun choosing together and I could really get used to it. And I couldn't imagine why couples didn't do groceries together but instead send out their man to do it with only a list to refer to.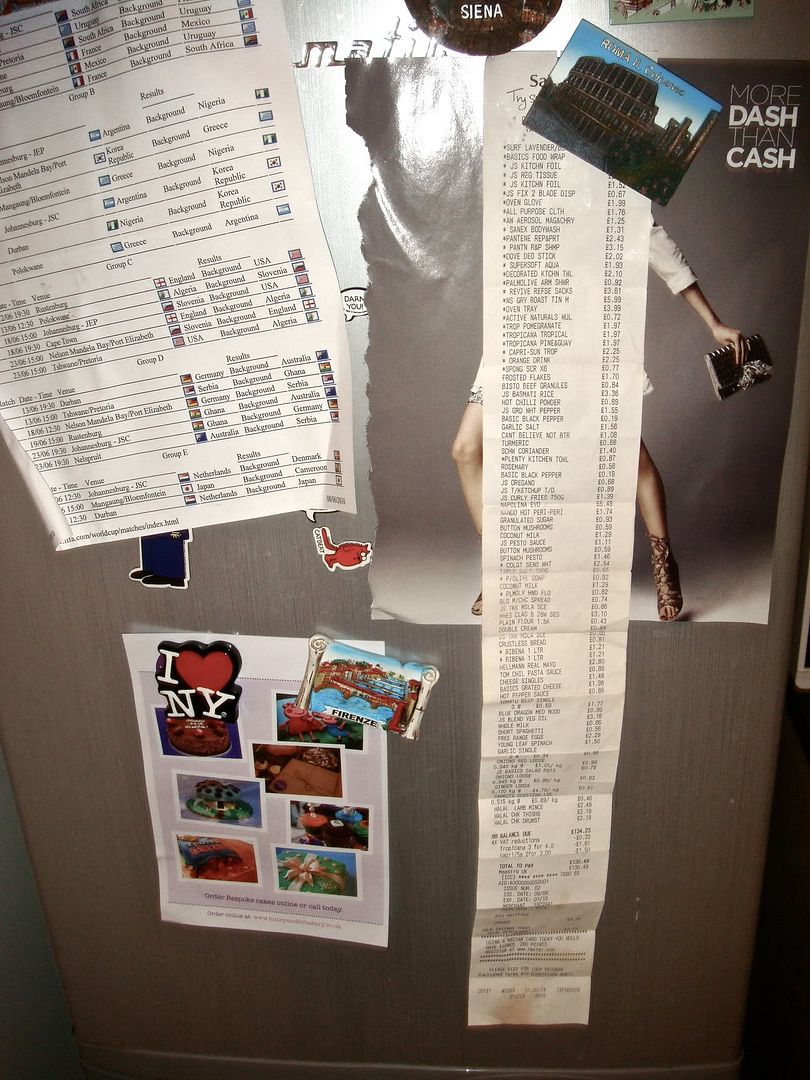 After a while Fairuz starts to complain about me putting a lot of stuffs in the shopping trolly and spend on something unnecessary like a box of magnum or a packet of sneakers bars. Yeah! and he would then droped 2 packets of Kinder Bueno as an excuse that he needed it while doing his work and thinking using his brain is making him hungry. And without realizing it we've exceeded the monthly groceries budget. Damn those Kinder Bueno. Fairuz! I told you it's not good and look what you've done. And not just that, it seems that a women(me especially) have a habit of browsing every aisle and see what is needed so we end up 3 hours instead of 1 and a half hours.
So after a long thought and a few cup of tea we resorted to a plan that we think would work on saving and not spend on unnecessary. That is to make a list! Although when I think about it we did have a list before and still would drop a few or two things in the trolly as an excuse that I forgot to put that thing in the list. So again after a long think and a few cup of camomile tea Fairuz decided it's best if I do the list and he would go do the groceries shopping by himself. He said that would save us time and money a lot.
Turn out. He was right.
So he's been doing that all this while now every saturday while I cooked at home. Me do the list first and he would go buy it. So when people ask I can safely say that it is an effective way to do grocery by saving time and money.
Now that explained why man are send out to do groceries instead. It's simply either they didn't want to spend on unnecessary or the women are at home cooking (or so). Ok maybe not cooking but saving time without a women.